Publications
Below you can see a list of relevant publications as well as recent news about the McStas software.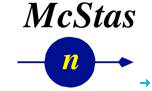 18/09/2014 – The official McStas 2.1 release is finally out!
Beyond NMI3, this collaboration keeps on being successful as the team has just released the official McStas 2.1. Find out more at http://www.mcstas.org/ .
K. Lefmann, E. Farhi and V. Hugouvieux, Neutron News, 16/2 (2005)
L. Ciampolini, L.E. Bove, C. Mondelli, L. Alianelli, S. Labbe-Lavigne, F. Natali, M. Bée and A. Deriu, Nuclear Instruments and Methods in Physics Research A, Volume 544, Pages 649-658 (2005), A new gradient monochromator for the IN13 back-scattering spectrometer
G. Zsigmond, K. Lieutenant, S. Manoshin, H. N. Bordallo, J. D. M. Champion, J. Peters, J. M. Carpenter and F. Mezei, Nuclear Instruments and Methods in Physics Research A, Volume 529, Pages 218-222 (2004), A survey of simulations of complex neutronic systems by

VITESS
M. Ohl, M. Monkenbusch, D. Richter, C. Pappas, K. Lieutenant, Th. Krist, G. Zsigmond and F. Mezei, Physica B, Volume 350, Pages 147-150 (2004), The high-resolution neutron spin-echo spectrometer for the

SNS

with tau >= 1us